So here is the cabin that I referred to in
my last post
. Nice, eh? And just so you are totally jealous, I also have posted a view from the dock. We spent a large portion of our vacation just hanging out by the water. And why not? Sure it smells like fish and the mosquitoes are HORRIBLE, but it's beautiful there!
Oh, and before we move on, I wanted to tell you that I hate Blogger and it's non-uploading ways. Sorry that the pictures are all screwed up.
Anyway, we rowed boats, we caught minnows, we took turns jumping in the water. We mocked those less fortunate than us, such as Greg, who couldn't get out of the water after getting in, then Camille who learned from personal experience why it is prudent to use the buddy system when trying to exit a canoe. (My father-in-law also had the canoe problem but I was unfortunate enough to NOT get that one on camera)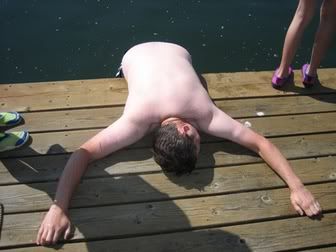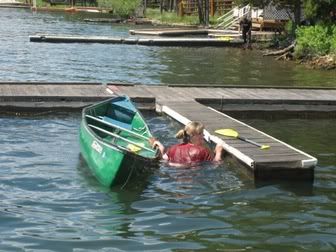 We rented a jet ski on Monday and spent the day taking turns riding it. None of us had ever been on one before but we pretended like we were old hats. Greg thought I drove a little bit too crazy on it and I thought he drove it like a Nancy Boy. (he TOTALLY did by the way.)
We decided to let my 8 1/2 year old nephew take a turn at driving thinking he would be somewhere in the middle, neither a Nancy nor crazy. We were entirely wrong. The kid PUNCHED it, bounced over waves so hard that I could feel the fillings clatter around in my mouth. I yelled my RSW (Reflex Swear Word--you know the one you use when something bad happens and it just falls out of your mouth? THAT one.) I held on for dear life and begged to be driven back to the shore. Greg thought it was HILARIOUS that I was so freaked out, especially since I called HIM a pansy for being so nervous when I was driving. I guess it served me right.
Note the fake smile on my face in the picture. I am SO trying not to cry. I didn't even get back on after that little experience. (and if you can't tell which one is me I am the man-ish looking one with the do-rag on the back of the watercraft)
A fabulous time was had at
Yellowstone National Park
. I can't believe I have never been there before! It was so much fun! Lots of good stuff to look at if you are into all kinds of nature. The animals were fun to see, but I was more amused by the tourists. They stopped without fail at every single animal sighting. Bison? They stopped. A lone elk? They stopped. Squirrels? They stopped. And when they stopped, they STOPPED. Even if it meant wrecking into a ginormous lodgepole pine or causing a 10-car pileup. It was insanity.
We visited
Old Faithful
where my two children posed sweetly in front of the sign. We got lots of "Your Kids Are Cute" smiles that day. To the point of me getting tired of having to give the "Thanks" smile in return. I know, I know. It's hard to be the mom of such adorable little rugrats.
A-Boy TOTALLY knew what geysers were because of the Gooey Geyser that goes "Kersploosh" on Dora. I can't decide if this is a good thing or not. I think he was a little disappointed that the geysers we saw in Yellowstone didn't spray pink goo like the Gooey Geyser does, but he dealt with his issues.
We also got to see the
Beehive Geyser
erupt and I have actual footage! We don't talk in it because we thought my sister-in-law was snapping a picture, but you can enjoy the geyser in the background. (Actually, SHE thought she was snapping pictures too but she was WRONG) So this is what we look like when we are trying to get our picture taken in front of a geyser.

Video Hosting - Upload Video - Video Sharing
We also went to
Artist Point
and looked down at the "Grand Canyon of Yellowstone". A-Boy took one look at the cascading waterfall below and announced that we were going to need a rope. Apparently he thought we were going to be climbing down the rocky terrain to reach it. I don't think so kid, especially after having to carry you all day long. Sometimes I am glad that he is still only 26 pounds.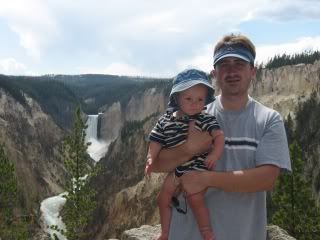 We passed this old building on the way into Yellowstone and it made me giggle all day. On the way back Mini-Man was tired of being in his carseat and was letting us know by screaming like a screech owl for more than an HOUR but I still made Greg stop so I could take a picture. (what is a few more minutes of screeching when you have heard it for an hour?) If you can't read the sign it says "Modern Cabins and Cafe". Sweet, eh? It was probably a gem back in the day. Old school. Word.
There were many other parts of our trip. We celebrated the inlaws 40th wedding anniversary by surprising them with a mini-wedding reception, complete with mint and nut cups, raspberry frappe, jordan almonds and an extremely sad-looking wedding cake. We danced to music from 1966, then played a few rounds of The Newlywed Game. (Greg and I did pretty well at it, I might add) And remember how I was so stressed out last week trying to complete projects? I was making a scrapbook for the occasion. It turned out really nice and they seemed to like it so that's good. I would post pictures of this grand event but for some reason we didn't take any! I think we were too busy partying it up!
We celebrated Greg's 30th birthday too. I remember when I thought 30 was old. My how things have changed.
We stayed up late into the night playing games after the kids (or at least my kids) went to bed. This is me when I am completely exhausted, yet still insisting that we just play "one more round". I do this for two reasons. 1) I don't want the whole bonding feeling to end. We have a lot of fun in these late night sessions. 2) I am hoping to redeem myself from the crappy losing streak that I am on. And probably on because I am so tired. It's a vicious circle, really. Play one more game because I don't want to lose, lose because I am tired. I just can't win.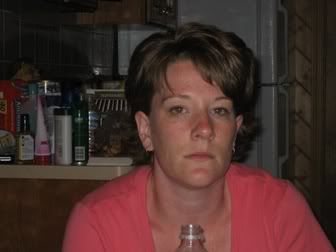 Did I mention that these late-night sessions end at like, 11pm? Yeah, we are losers.
So we had a great week. All Greg's side of the family was there, minus his brother and sister-in-law that live far far away. Having 14 people, two bathrooms and no dishwasher makes for an interesting time. It was a good week though and just what I needed. I remembered how much I love the outdoors. As much as I complain about it, I really do like it. Good thing too since I am going to Girl's Camp in two weeks. I know. Me. Girl's Camp. No cabins. No showers. No electricity. No cell phone service.
I'll definitely let you know how THAT goes.